It's hard to believe that July 4th is just around the corner. We've started to make plans this year; have you? July 4th stained glass jello shots are perfect for any 4th party. Sweet and patriotic these will wow your guests with how cool the jello shots look.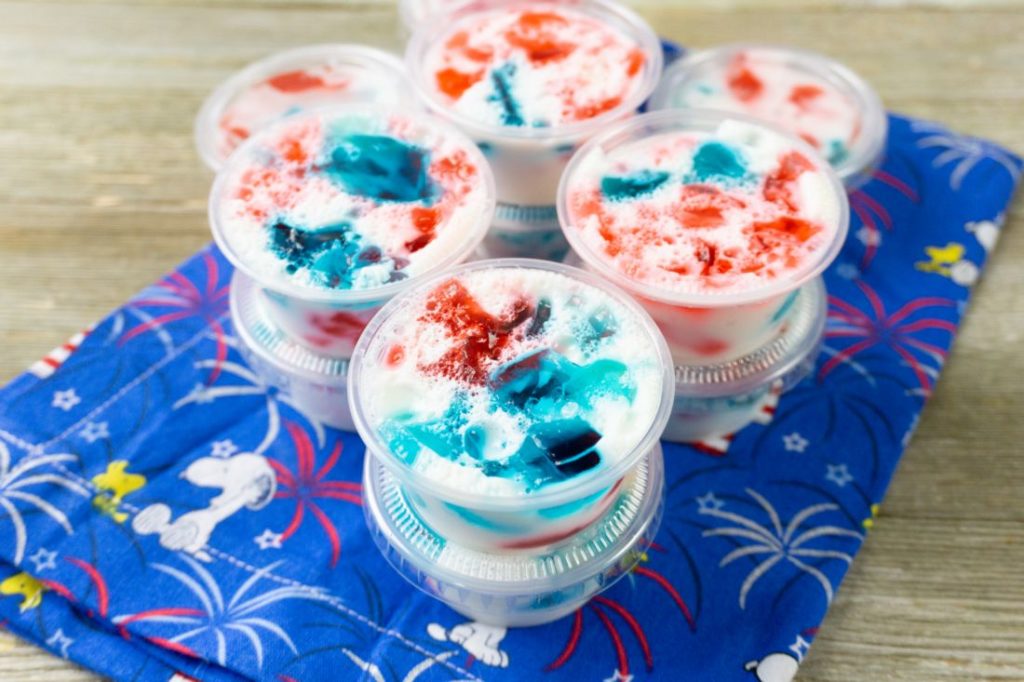 Alcoholic or Non Alcoholic
These patriotic jello shots can be made with or without alcohol. Below in the recipe card I have added both ways to make these. Always think of the guests that don't drink or the kids that would like one too.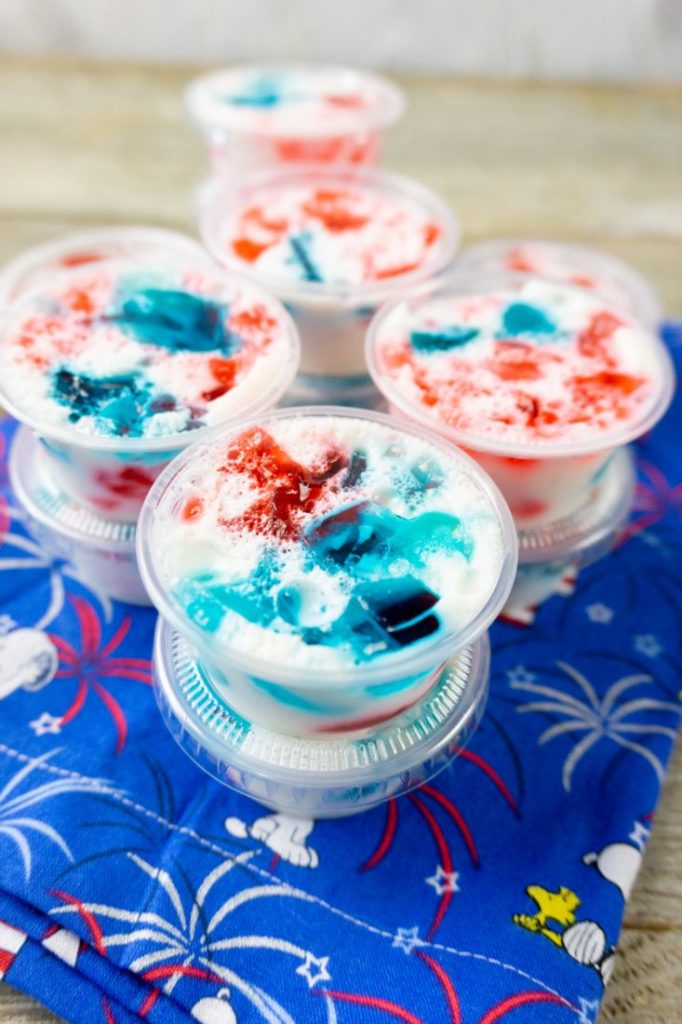 Jello for these needs to made ahead of time. I generally start 24 hours before I'd like to serve them. Make the red and blue jello and let them set for a few hours. Once the sweetened condensed milk and gelatin is added then I let those set overnight.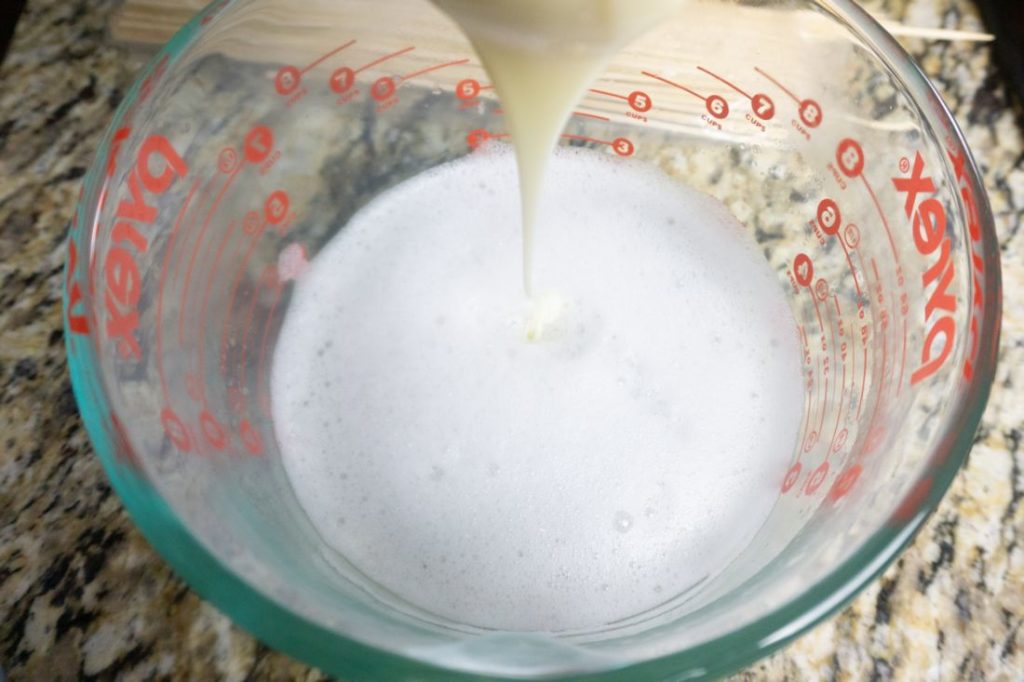 The red and blue take about 4 hours to fully set up depending how deep of a dish or bowl you put them in to set. When adding alcohol it's best to add it to the clear gelatin and sweetened condensed mixture.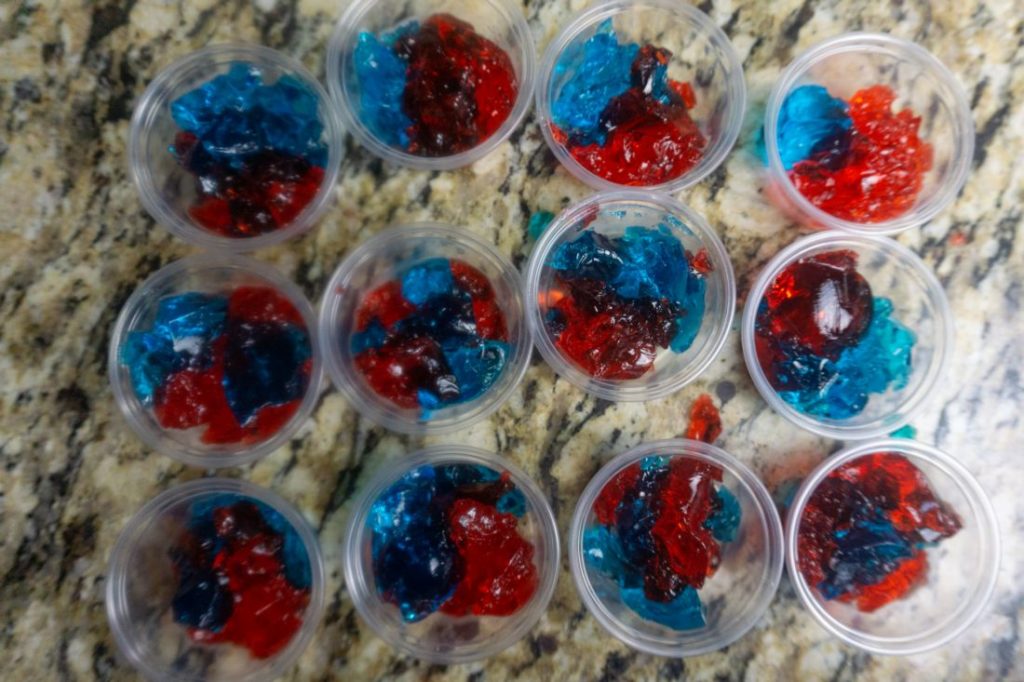 This allows the shots to set up overnight well with the rum. I generally use coconut rum in these as it matches the flavor of the berry blue and strawberry jello the best. Adding alcohol always takes longer to set so account for that additional time.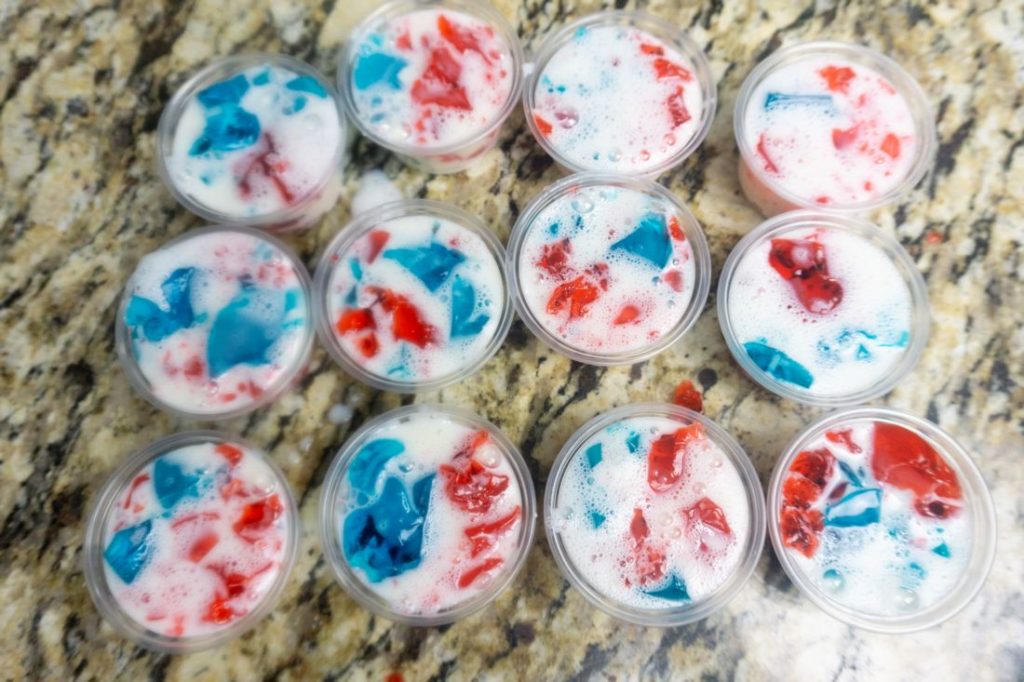 This is why I like to add it to the last part of the process with the white gelatin. I leave it overnight to make sure it sets well. Keep the shots nice and cold for serving.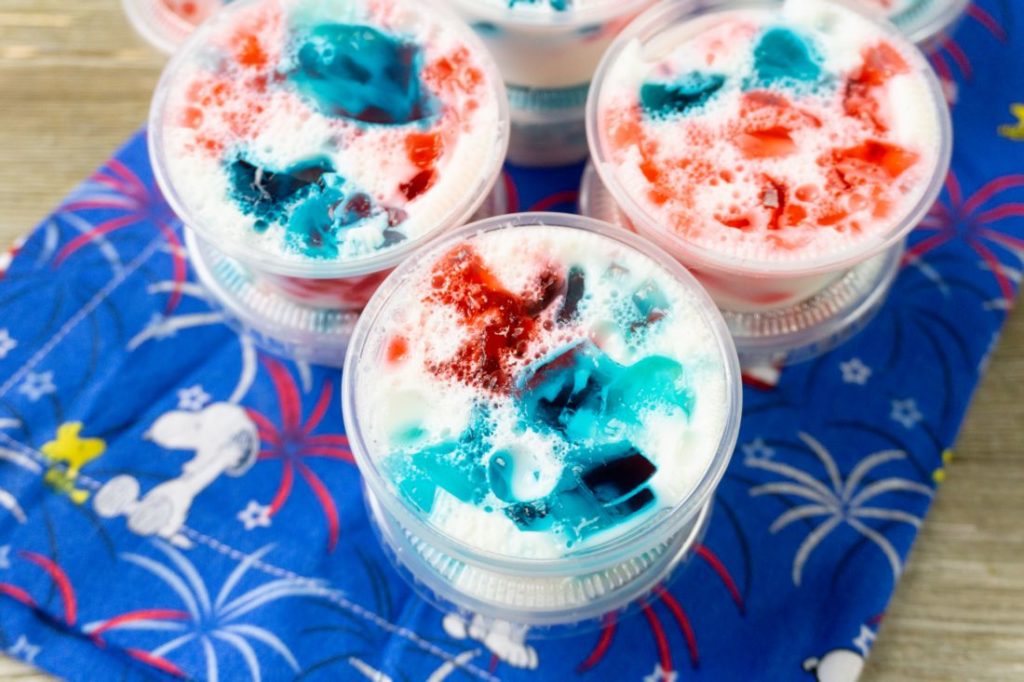 July 4th stained glass jello shots are great for the 4th along with other patriotic holidays. Such as Memorial Day and Labor Day. Make them up for backyard barbecues as a fun treat for kids or the adults alike.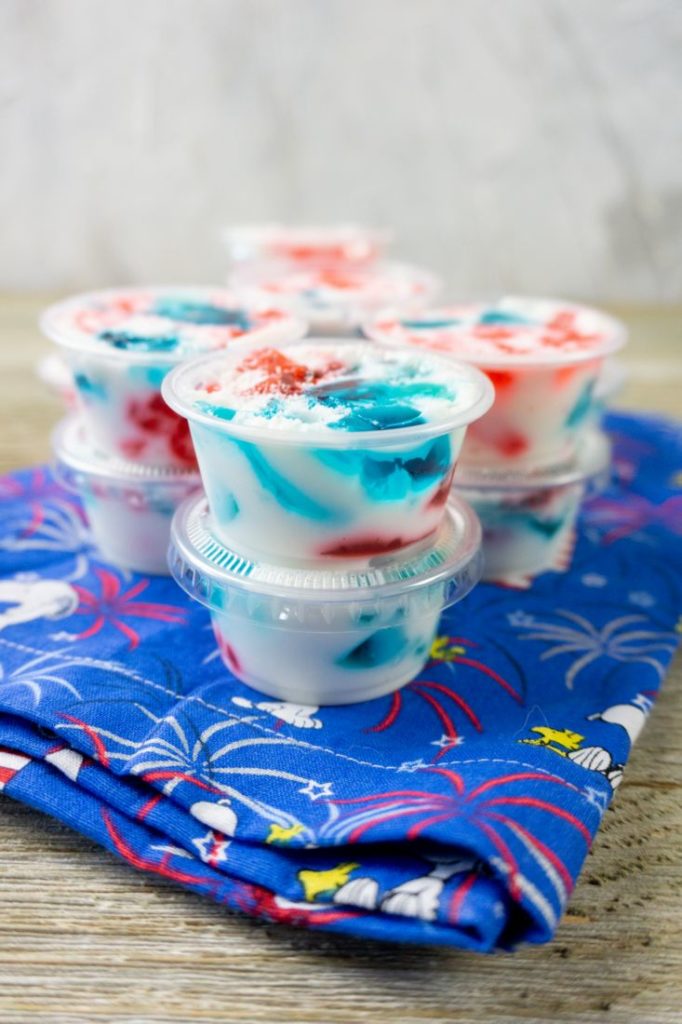 If you enjoyed these jello shots then check out a few more recipes for shots I have below. I love doing all kinds of fun ones for the holidays.
Fun Jello Shot Recipes: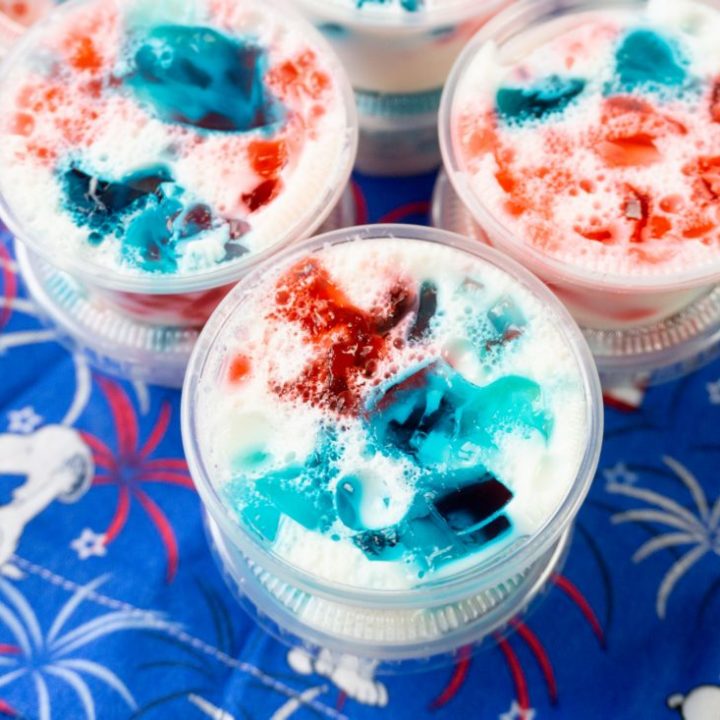 July 4th Stained Glass Jello Shots
Total Time:
1 day
10 minutes
July 4th stained glass jello shots are perfect for any 4th party. Sweet and patriotic these will wow your guests with how cool the jello shots look.
Ingredients
6 ounce box strawberry Jello
6 ounce box berry blue Jello
14 ounce can sweetened condensed milk
2 envelopes unflavored gelatin
5 cups boiling water (divided)
1/2 cup cold water
1/2 rum; or other choice of liquor
(For non alcoholic replace rum with 1/2 cup hot water)
Instructions
Mix strawberry and berry blue Jello per the box directions and place them into bowls into the fridge for least 4 hours until set.

Break up Jello and place into Jello shot cups. A little of each color works well.

In a separate large bowl, sprinkle 2 envelopes of unflavored gelatin into 1/2 cup cold water and allow to sit for 5 minutes. After the gelatin blooms (it will look mostly dissolved and get wrinkly on the surface), add 1 cup boiling water and 1/2 cup rum (replace with water if you want non alcoholic); stir to dissolve.

Add the can of condensed milk and stir to combine; set aside to cool to room temperature. It must cool or it will melt the red and blue jello. Pour the cooled milk mixture over the red and blue Jello in the shot cups.

Place in the fridge overnight to set. Serve nice and cold for a fun summer treat.
Nutrition Information:
Yield:

25
Serving Size:

1
Amount Per Serving:
Calories:

88
Total Fat:

2g
Saturated Fat:

1g
Trans Fat:

0g
Unsaturated Fat:

1g
Cholesterol:

7mg
Sodium:

41mg
Carbohydrates:

14g
Fiber:

0g
Sugar:

14g
Protein:

2g
For more on our nutrition disclaimer https://mooshujenne.com/nutrition-disclaimer/
Pin July 4th Stained Glass Jello Shots: