Growing up there was this old drive in my grandparents used to take me to that served patty melts and delicious food. I remember the green sign and the big bags of fries. Nothing like any other joint around. It was called Lucky Boy. My grandmother loved their pastrami sandwiches. My grandfather loved the burgers and fries. I remember the milkshakes.
I want to give everyone a dish that would be reminiscent of a time I spent with my family for this #SundaySupper. So here is my version of a patty melt, hand cut fries, and a chocolate milkshake.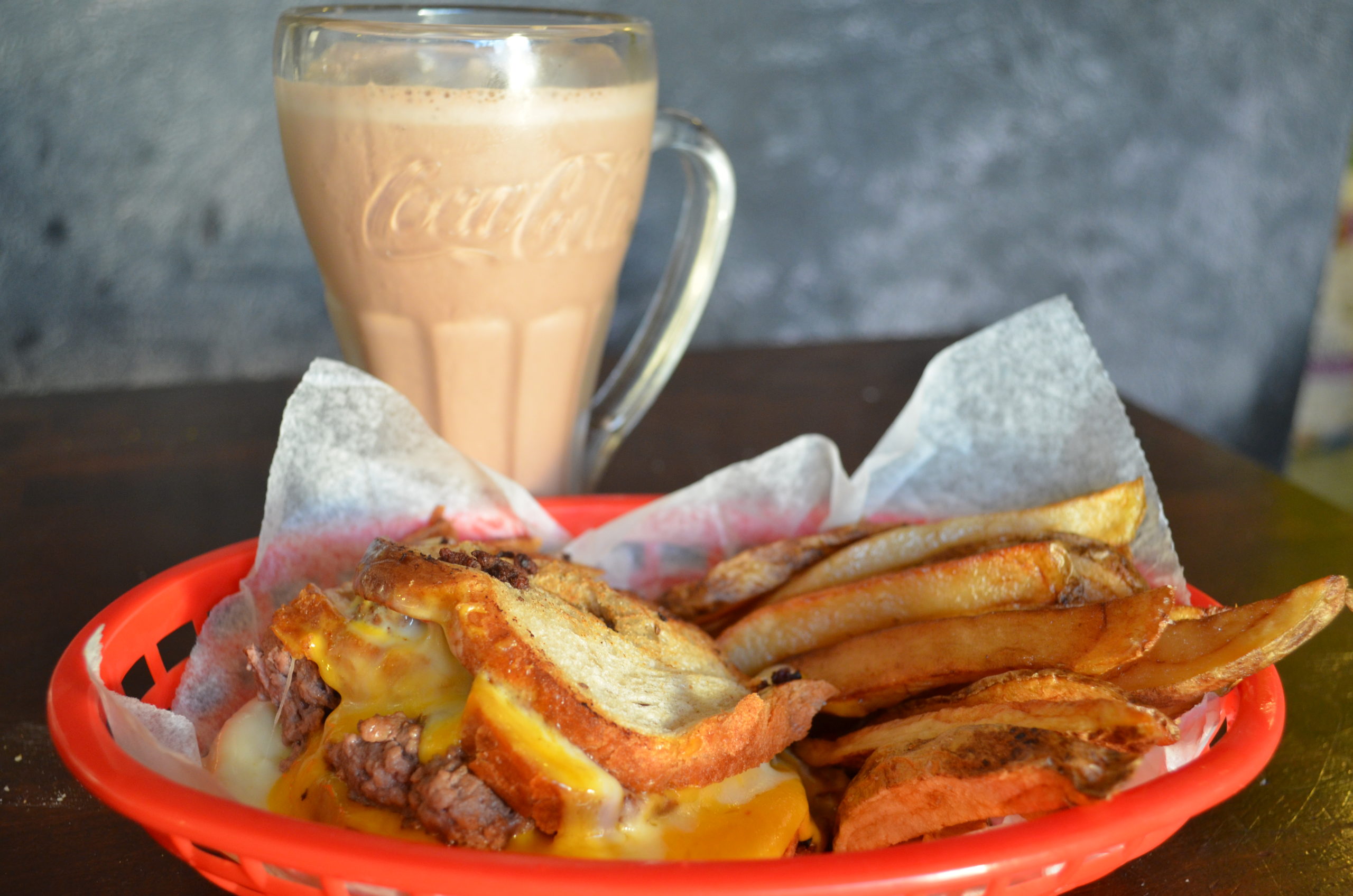 Patty Melt, Shake, and Fries
Ingredients
For Patty Melt
One loaf rye bread
1½ lbs grounds beef
Sliced cheese of choice (we used cheddar and pepperjack)
1 onion; sliced in rounds
1 tbsp olive oil
1 tbsp butter for bread
For Hand Cut Fries
6 to 8 potatoes; sliced into strips
Vegetable oil for frying
Salt and pepper to taste
For Chocolate Milkshake
3 scoops of chocolate ice cream
½ cup milk
3 squeezes of chocolate syrup
Instructions
Make hamburger patties square or round to your preference. In a frying pan, add one tablespoon olive oil and fry burgers until cooked to desired wellness. Pull out patties and butter the bread. Toast bread with cheeses and add the meat. Serve with gooey cheesiness!
Wash potatoes and cut in half and then in to long strips. Heat oil to medium heat and fry potatoes until golden brown. Drain on paper towels and then salt and pepper to taste. A small amount of cinnamon, paprika, sugar, salt, and pepper makes a wonderful seasoning to the fries.
In a blender, add three scoops of chocolate ice cream and ½ cup of milk. Blend for 1 minute on high. Add three squeezes of chocolate syrup and blend for 30 seconds. Serve with whipping topping and a cherry or plain jane.
Sunday Supper Retro Appetizers:
 Sunday Supper Retro Salads:
 Sunday Supper Retro Breads and Sandwiches:
SundaySupper Main Dishes:
Sunday Supper Retro Sides and Veggies:
 Sunday Supper Retro Desserts and Cocktails:
Join the #SundaySupper conversation on twitter each Sunday. We tweet throughout the day and share recipes from all over the world. Our weekly chat starts at 7:00 pm ET and you do not want to miss out on the fun. Follow the#SundaySupper hashtag and remember to include it in your tweets to join in the chat. Check out our #SundaySupper Pinterest board for more fabulous recipes and food photos.
Disclaimer: This post may contain affiliate links by Amazon. If you purchase a product from one of our links, we could receive a commission from the seller. Rest assured, we only recommend products we believe in, and all opinions are 100% truthful.