Lately, I am working to do my best to eat healthier. Snacking generally gets the best of me because I don't always eat healthy. I would like to speed up my metabolism. Peanuts have the power to help with that. They are a healthy snack that are pack full of nutrients. Science doesn't lie because it's made of facts. Just like the video A Gift from Nature explains. Mr. Peanut explains all the nutritional values. Although, it certainly is not always about snacking. Healthy dinners help too! Just like Chili Chicken & Peanut Noodles.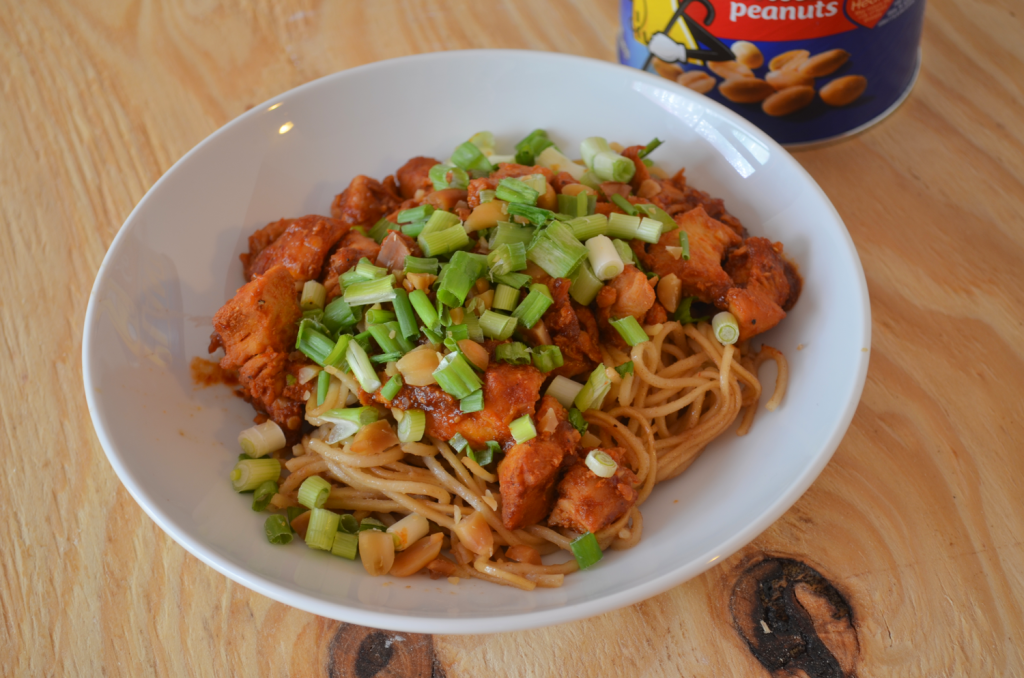 This allows me not to eat the horrible chicken fried everything that my other half loves. He's not the biggest fan of Asian or Thai food but I try to edit the recipes to leave out some of the flavors he doesn't prefer. He likes his beef and fried foods. Not healthy! In my journey to eat healthy, lose some weight, and build muscles I like creating dishes with all around healthy ingredients.
Peanuts have six essentially nutrients like niacin which get all up in you. It's successful snacking. Niacin helps with skin health. Have you seen anybody do anything worth while without skin? Planter's peanuts have plenty of options for snacking with different styles of peanuts.
I used Planter's peanuts in this recipe for a fresh crunchy topping packed with the #PowerofthePeanut. I also used spring onions for a bit of flavor. Do you have the #PowerofthePeanut? I know I do! It's hard to get rid of those pounds sometimes and the science behind the peanut is pretty powerful. Now to get my other half to believe it. The teens already do! I even influenced a few of the teens friends to try my recipe and they loved it.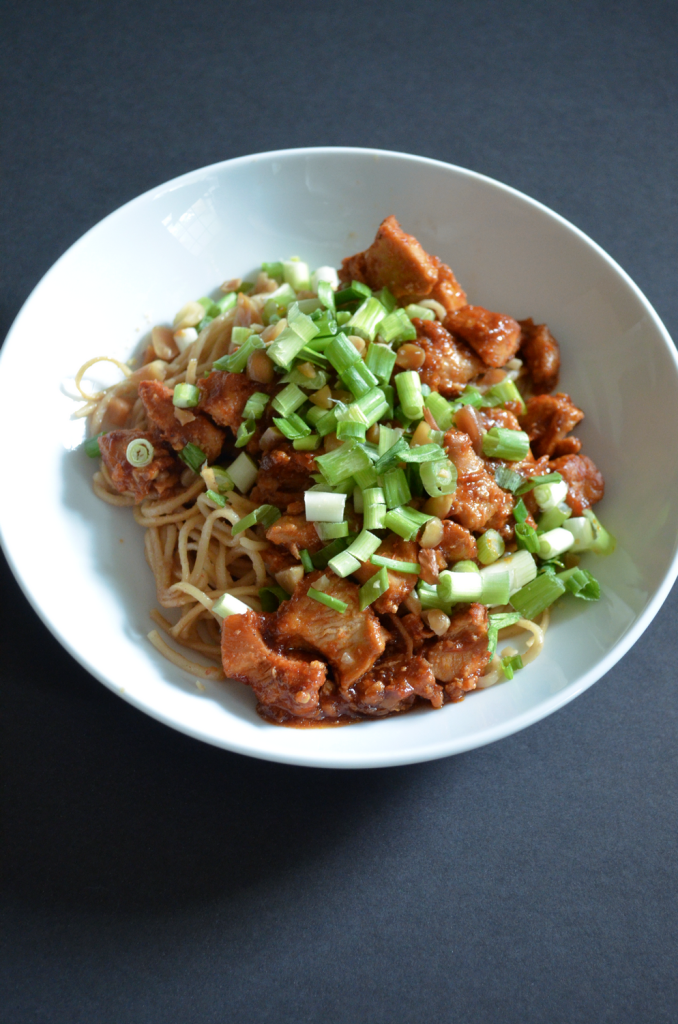 I have to admit that every holiday season I like to stick bowls of Planter's cocktail peanuts out on the tables rather then fudge or chocolates. Such a better alternative. What do you set out during the holidays?
Print
Chili Chicken & Peanut Noodle
---
For Peanut Noodles & Sauce
½

to

1

cup chicken broth

5 tablespoons

natural peanut butter

1 tablespoon

Sriracha chili sauce

3 tablespoons

soy sauce

2

packages lo mein noodles
For Chili Chicken

5

chicken breast; ½ cubes

2 tablespoons

olive oil

1 tablespoon

apple cider vinegar

4

garlic cloves; minced

1 tablespoon

fresh ginger; minced

⅓ cup

chicken broth

4 tablespoons

soy sauce

2 tablespoons

Sriracha chili sauce

1

bottle regular chili sauce
Salt and fresh cracked pepper
For Topping
One handful of Planter's cocktail peanuts; chopped

1

bundle of spring onions; sliced
---
Instructions
In a deep skillet, add in chicken, olive oil, garlic, and ginger. Bring to a high heat. Add in chicken broth and two tablespoons soy sauce. Cook until chicken is browned.
Bring water to a boil in a large pot with one tablespoon soy sauce.
Add apple cider vinegar, Sriracha chili sauce, regular chili sauce, and remaining soy sauce to skillet. Bring to a low boil and then lower to very low simmer for 20 minutes stirring frequently. Add salt and fresh cracker pepper.
Add noodles to water and cook for 4 minutes or as directed on package. In a small bowl, add peanut butter, Sriracha chili sauce, chicken broth, and remaining soy sauce. Heat for one minute and then whisk ingredients together. Add more chicken broth until sauce because light and thin.
Drain noodles and toss sauce over noodles. Chop spring onions and Planter's peanuts to top over chicken and noodles.
Category:

Dinner

Cuisine:

Asian