About a month ago I received a Soda Stream in the mail. My son, Chancelor, wanted a SodaStream since they first came on the market. It was a win, win situation. What I did not expect was the plethora of flavors they sent along with it. We didn't even know they sold that many flavors including Kool-Aid and Pina Colada! The Kool-Aid and the original soda flavor were the first to go. Next up was root beer. We even had friends over on two occasions to try it and it was definitely a hit!
After the initial use of the machine I wondered how much fun I could have with it. Different floats for parties and drinks for adult parties. I would love to get some Italian gelato and make a blood orange Italian soda float. I love those; they are hard to find here. My son and I had some fun making a float in this big stein glass. As you can see below he really loved it sticky hands and all.
SodaStream has a full line up of products including the machine named Source. It comes in a whole line up of basic colors to match your kitchen. We received the black which fits perfectly with our red and black kitchen set up. What color would you choose from the pretty line up below?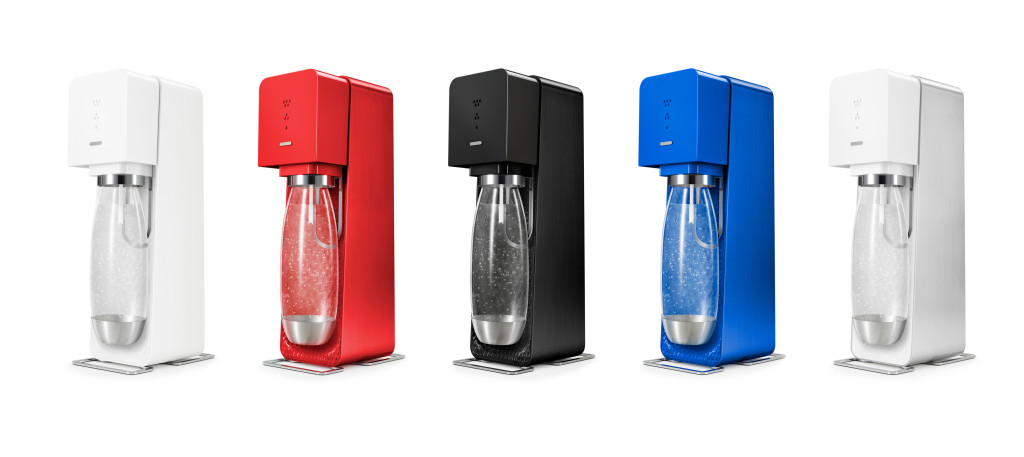 It's really simple to work too. All you do is fill the liter bottle with water either via tap or refrigerated, insert into the machine and press for carbonation. No need for an electric source or batteries. With a SodaStream home soda maker and over 60 delicious regular, diet and caffeine-free sodamix flavors to choose from, you'll enjoy freshly made, great tasting soda that fits your health and diet. Regular flavors contain no high-fructose corn syrup, and diet flavors are sweetened with Splenda® brand sweetener, not aspartame. Plenty of reasons to own one. Now I just need to figure out where to hide it when he decides to move out. He is already insistent he wants it in his room.
Orange Soda Float
2014-01-28 16:04:16
Serves 1
Ingredients
Water
Orange syrup
2 scoops vanilla ice cream
Instructions
Follow directions to make carbonated water via the SodaStream. Add in orange syrup and pour into a glass. Add two scoops of vanilla and serve.
Mooshu Jenne http://mooshujenne.com/
*I was not compensated for this post. Soda Stream provided me with product for review purposes. All opinions stated her are my own. *