47
Before I tell you how to win the Calphalon digital convection oven you must first read all about my strawberry banana french toast I baked up in my very own Calphalon digital convection oven that they so sweetly sent me.
For years I bugged the other half to buy me a convection oven to use endlessly for easy dinners. What I LOVE about this convection oven is the size. It fits a small pizza or a 9×13 cookies sheet. Yes, you can bake cookies in it in the summer without heating up the entire house. How brilliant is that in Texas' super hot summer heat!
The oven is perfect for teenagers that have light cooking skills. On more then four occasions now my teenagers have used it to make their dinners while the other half and I headed out for date night. They love it too! The convection oven has custom time and temperature settings for bagels, pizza and cookies. The pull out crumb tray makes it a breeze to clean. It takes reading the manual and playing with the settings to get use to and remember how to work it. I already have it aced though!
Below the recipe is the giveaway but first here is a look at one of the easy make head or do the day of breakfast recipes we baked up in the digital convection oven.
Strawberry Banana French Toast & Calphalon Giveaway
Ingredients
1 banana; sliced
4 strawberries; remove tops and sliced
3 sliced of french bread; crusts removed and tear into small pieces
2 eggs
1/4 cup milk
1 tablespoon cinnamon
2 tablespoons sugar
1 teaspoon vanilla
Instructions
Preheat oven to 375 degrees F.
In a medium bowl, add in egg, milk, cinnamon, sugar, and vanilla. Whisk until mixture is well blended.
In a baking dish, add bread, bananas, and strawberries. Toss to even out the fruit with bread. Top with wet mixture and bake for 25 to 30 minutes until egg is set and top is lightly browned. Serve warm.
http://mooshujenne.com/baked-strawberry-banana-french-toast/
Please follow the instructions on the Rafflecopter below in order to enter to win the Calphalon digital convection oven. It is mandatory that you comment the blog in order to be entered to win! Don't forget that you can tweet about the giveaway daily through the Rafflecopter for extra daily entries! If you share it on Pinterest let me know in the comments for another extra entry.
*Disclosure: Calphalon is providing one winner with a digital convection oven.  I was not reimbursed for writing this post and all opinions expressed here are my own.
2
It's carnival time again and I am counting the days till Fat Tuesday when I get to celebrate with fried gator tail and plenty of drinks. Until that time I plan on cooking everything Cajun in my book of secrets. Hence the Mardi Gras cupcake recipe.
Last year, I bought some doubloons from the dollar store to decorate my cupcakes with. Unfortunately, I never got the chance to use them. Though I am glad because I did not know my way around my new camera then. Now my abilities have grown and well I hope you can see that in the pictures below.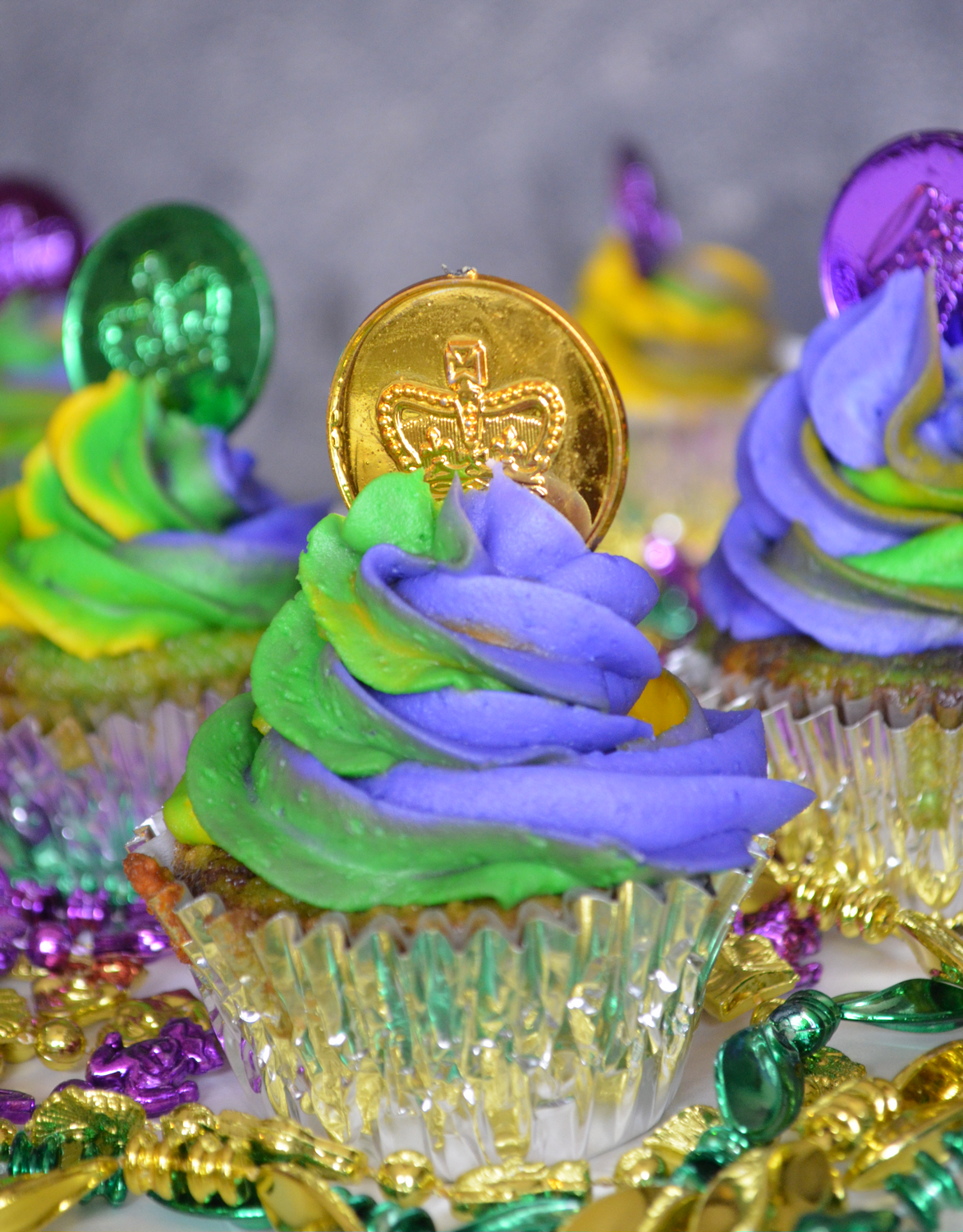 One of the many questions I get asked is how do you swirl icing. It's pretty simple! I just add a tad of each color to different spots in the pastry piping bag and then squeeze. I only add a little at a time of each or the colors tend to blend too much. You can see my bag below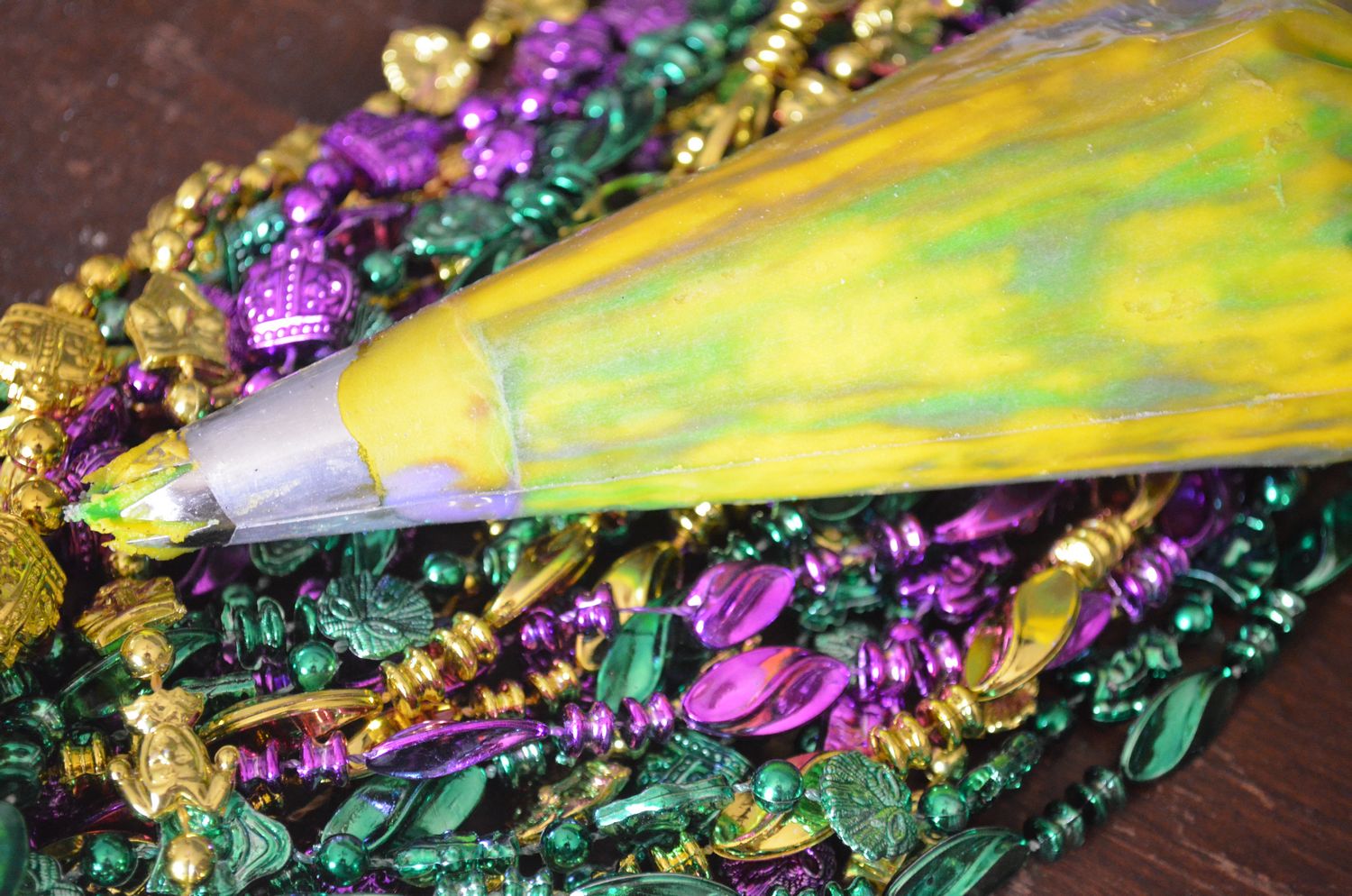 The tip I used is 1M by Wilton. I like this shape a lot for cupcakes as it gives a nice ice cream swirl effect. The Mardi Gras beads are a part of the collection of beads I have started to get ready for all the Fat Tuesday fun. I picked them up at the local Dollar Tree if you are interested in getting some of your own.
Now, I cannot take full credit on this recipe as my daughter, whom is 12, took the fun of baking these cupcakes. With a recipe from me she had fun with the colors and the endless licking of all the bowls. That is her favorite part of baking sweets. In fact, I generally have to continue to tell her the licking belongs at the end of baking not while we are trying to mix everything. She's hilarious!
Ingredients
For Cupcakes
1 1/4 cups cake flour
1 1/4 teaspoons baking powder
1/2 teaspoon baking soda
1/2 teaspoon salt
2 eggs
3/4 cup sugar
1 teaspoon pure vanilla extract
1 teaspoon Malibu coconut rum
1/2 cup oil olive oil
1/2 cup buttermilk
Yellow gel food coloring
Purple gel food coloring
Green gel food coloring
For Frosting
2 cups unsalted butter , at room temperature
5 cups powdered sugar
2 tablespoon vanilla extract
Instructions
For Cupcakes:
Preheat oven to 350 degrees F.
In a medium bowl, add cake flour, baking powder, baking soda and salt. Stir together with whisk, and set aside.
In the bowl of an electric mixer, add eggs, sugar, vanilla, rum, and oil; beat on medium speed for about 30 seconds. Reduce mixer speed to low and slowly add about half of the flour mixture. Add half of the buttermilk, then the rest of the flour and the rest of the buttermilk; beat until combined.
Separate batter into bowls and color with gel food coloring in yellow, purple, and green. Pour a little of each batter into lined cupcake. Fill liners a little over half full. Bake cupcakes 12-14 minutes. Remove from oven and allow to cool completely before frosting.
For Frosting
Using the paddle attachment of your stand mixer, whip the butter on medium-high speed for 2 minutes till butter is soft and fluffy. Reduce the speed to low and gradually add the powdered sugar. Once all of the powdered sugar is incorporated, increase the speed to medium-high and add the vanilla, mix well. Whip at medium-high speed until light and fluffy, about 2 minutes, scraping the bowl as needed. To color frosting just whip with purple, yellow, and green gel food coloring individually.
To swirl the frosting, simply put each color of frosting on each side of bag and pipe. I used a 1M tip from Wilton.
http://mooshujenne.com/mardi-gras-cupcakes/
0
In honor of Bastille day, I thought it would be best to post you my son's favorite French recipe. Boeuf Bourguignon also known as Beef Burgundy. It is a beef stew braised in wine. My son and I just love the fresh ingredients that go into this recipe. The fresh basil and thyme keeps the dish so rustic!  My version of this dish is cooked in a dutch oven pot on stove top. If you don't have a dutch oven you can use a larger sauce pot. If you would like the recipe of how to cook this in a oven or over camp fire in a dutch oven just leave me a comment and I will send you the recipe.
Ingredients
2 lbs stewed beef (or you can use roast meat cut into cubes)
Burgundy wine ( I usually use one full regular sized bottle)
10 to 12 mushrooms (sliced or whole; it's up to you how you like them)
3 slices pancetta or bacon ( cut into small pieces)
5 carrots (cut into threes)
a bag of small red potatoes; (you can also use fingerling potatoes)
a half of a bag of pearl onions
4 cloves of garlic (whole)
2 tbsp flour
4 cups beef broth
3 bay leaves (fresh, not dried)
one twig of thyme
2 tbsp olive oil
Fresh parsley (few tops chopped)
Salt & pepper (to taste)
Instructions
In large pot start out by frying your bacon a little till crisp reserving the oil. With bacon grease still in pot, drop in your garlic, pearl onions, carrots, mushrooms, and olive oil. Saute for about 5 minutes just till carrots have tenderized a bit on the outsides. Add in your beef, salt, pepper, and cook till browned on the outside. Add in the flour stirring quickly to help the thicken the juices. Add in your potatoes and pour in wine to cover all ingredients. Add in 4 cups beef broth. Drop in your thyme, parsley, and bay leaves. Cover and bring to a boil. Once it is boiling you can bring down to a low simmer and cook for about 2 hours till the meat is tender.
You can cook your potatoes on the side if you prefer. Sometimes I cook them in with the rest and other days I will cook them in the oven in dill and butter. I really do suggest fingerling or small petite red potatoes so the skin keeps the starches from ruining the sauce.
http://mooshujenne.com/boeuf-bourguignon/