I am a member of the Collective Bias® Social Fabric® Community. This shop has been compensated as part of a social shopper insights study for Collective Bias and their client Tyson.
Comfort food in all it's glory with much less work. Cheesy Chicken Bowls are perfect for a night at home watching TV's shows or movies you rented no matter where your favorite rent source is. Made from Tyson: Spicy Chicken Nuggets and Cheesy Chicken Nuggets along with corn, mashed potatoes, gravy and cheese. I love to put fresh bacon bits on top to give extra savory flavor.
It's great because you can decide if you want to go spicy for yourself and/or go cheesy for the little ones. With the wintry weather upon us this is definitely comfort food in my house. We made all the ingredients and set it out separately so the teens can decide what they would like to add to their bowls. The oldest is a very picky eater but even he enjoys the chicken.
What's even more super cool is that you can look for specially marked packages of Tyson Cheesy Chicken Nuggets, clip the token coupon on the back of the package, and bring it to Chuck E. Cheese's. You can purchase 130 Tokens for $25 (a savings of $7.50) for a fun day out at Chuck E. Cheese's! That's pretty awesome if you ask me. The more I could save when the teens were little the better! They still like going to Chuck E. Cheese; you never grow out of it! Skee ball was always my favorite.
You can always follow along and see more yummy recipes with Tyson's Cheesy and Spicy Chicken Gourmet Nuggets at #LoveUrNuggets on Twitter or follow their Twitter account at @TysonTweets. They also have a Facebook at Tyson Chicken Nuggets with some pretty neat artistic nuggets to help out with those picky eaters.
Now I am off to enjoy my cheesy chicken bowl while watching Hangover III since I missed it in theaters. Oh and check out this sweet Pinterest board with other Tyson nugget recipes like the Tyson Chicken Salad Jars.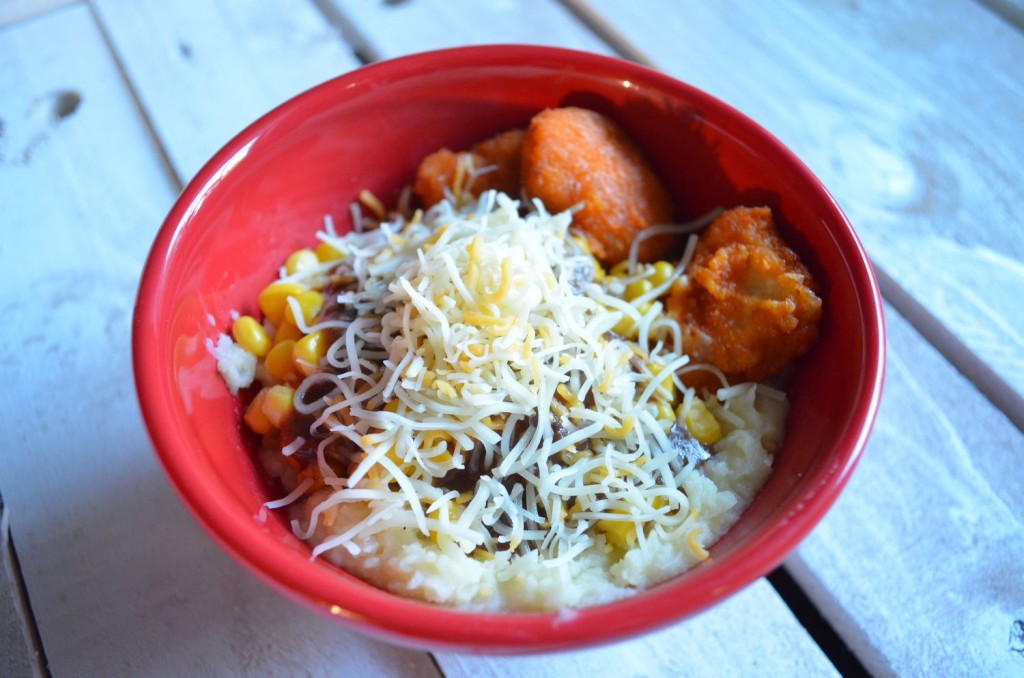 Cheesy Chicken Bowls
2014-09-23 19:08:41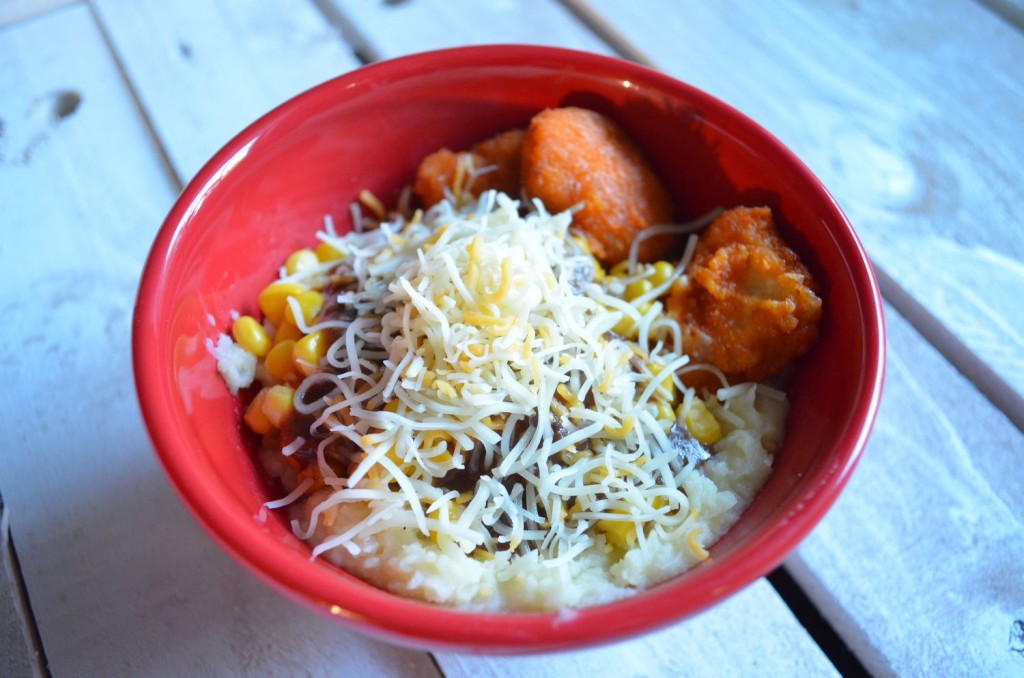 Serves 7
Ingredients
Tyson Cheesy Chicken Nuggets
Tyson Spicy Chicken Nuggets
1 can of sweet corn; drained
1 to 1 1/2 cups of shredded cheese
2 packages brown gravy
6 sliced of bacon; cooked and diced
8 to 10 peeled Russet potatoes; diced into cubes
Salt and pepper
1/2 to 1 cup milk
2 tablespoons butter
Instructions
In a large pot, boil potatoes with water and salt until tender. Half way through boiling potatoes preheat oven to package directions and cook chicken. Fry the bacon and dice into bits.
Drain potatoes and add to a large bowl. Add butter, milk, salt and pepper. Whip potatoes with a hand blender until creamy. Make gravy per package directions. You can also use ready made gravy. Open corn and drain; add to a small bowl.
In a bowl, add mashed potatoes, corn, gravy, cheese and bacon bits. Add chicken to the side of the bowl and it's ready to serve.
Mooshu Jenne http://mooshujenne.com/