Today is the 9th day in the countdown until Halloween! Halloween is only one of my favorite holidays

Today, I am sharing with you a recipe for Gooey Pumpkin Blondies. These bars have that gooey texture that some people love and others hate. So find that soft cookie/brownie eater and package these up to share with them.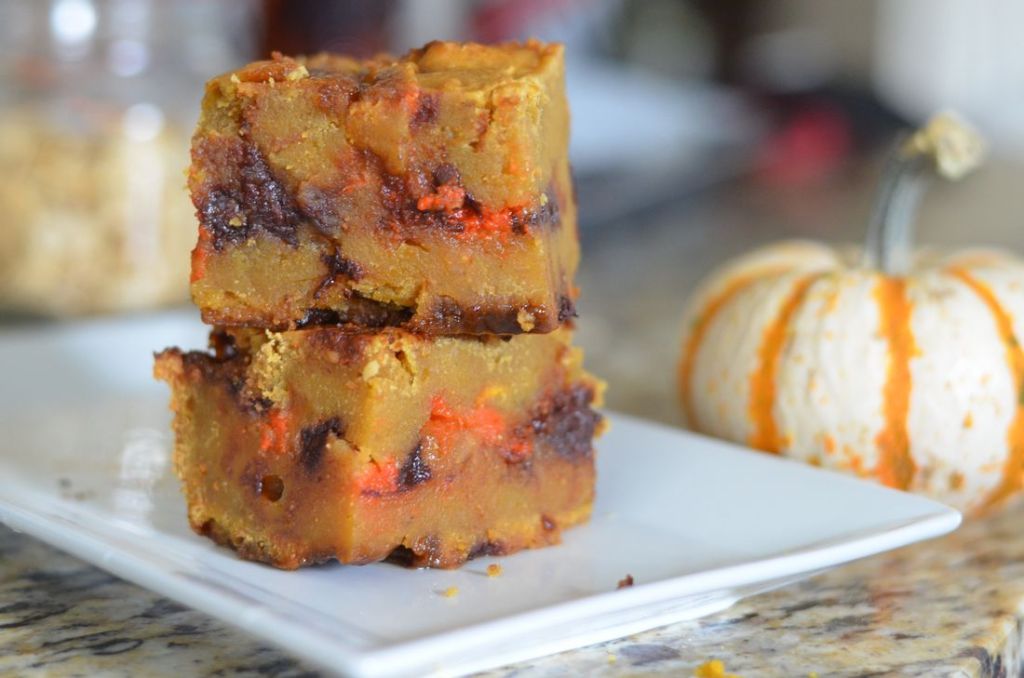 These are cute if you cut them smaller chunks and add them to an adorable Halloween themed mason jar. You can easily use some of those leftover Halloween cupcake wrappers. Just flip it upside down and add it between the lid seal and the lid ring. Makes an adorable ruffle with almost no work! Cutting the Gooey Pumpkin Blondies into smaller pieces and adding a Halloween themed paper straw is another way to serve them up at a Halloween party for bite size pieces.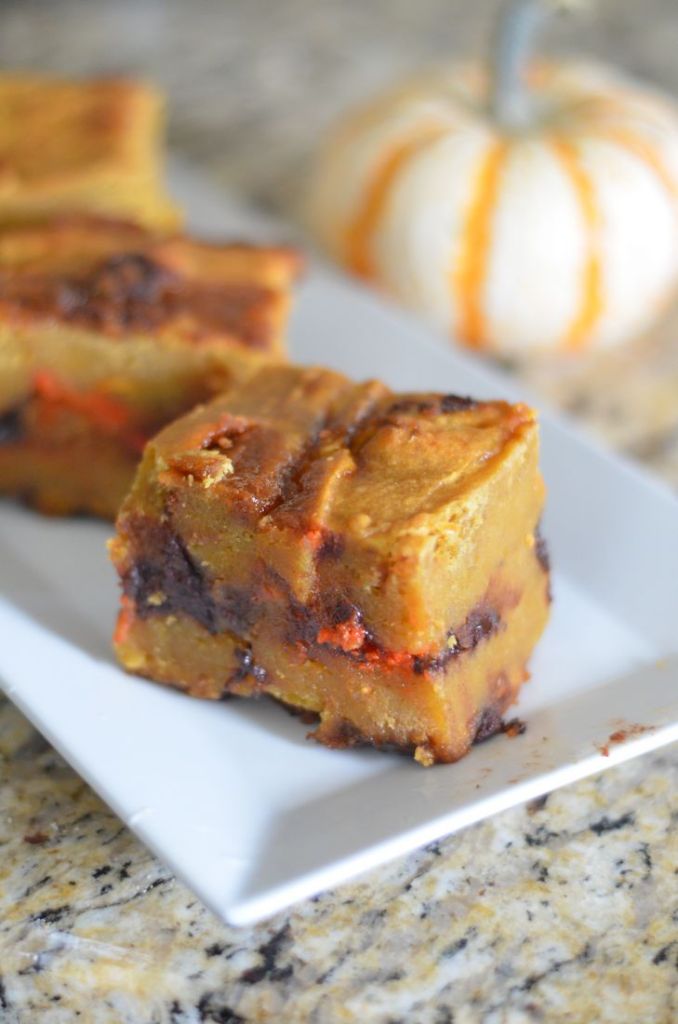 I am so excited for Halloween. Are you? Have you picked out your costume yet? I am still trying to make the tough decision between being a cat, witch, or monster. My teens insist that I go as a witch but the darn hat annoys the crap out of me. I really love those fuzzy leg warmers that make a costume into something adorable. I really want to go as a raccoon but they think I am NUTS. I'd love to hear about what you have planned for the holiday or what you plan to wear. Homemade costumes are especially fun! I saw a Medusa DIY headband just two days ago; completely cute! Come tell me below all the spooktacular costumes you have in mind. Now to plan a trunk or treat idea. Have you ever done a trunk or treat? This is my first time. Usually we have an annual Halloween party but this year we have something a bit more planned. Yes, it's a surprise. You'll have to visit the blog on Halloween to find out! Spooky dreams!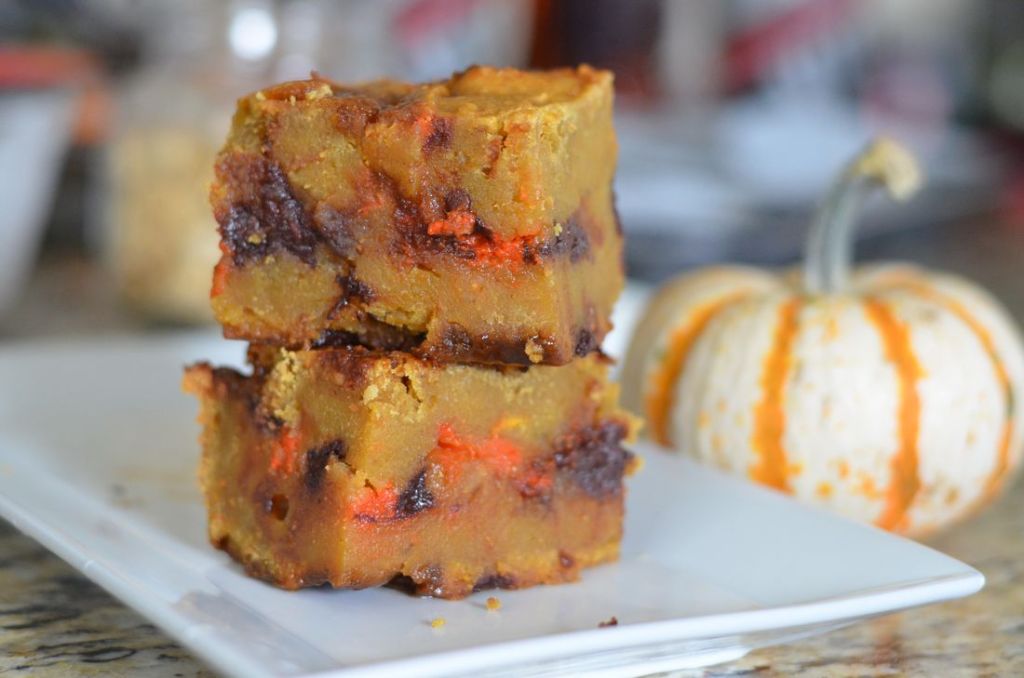 Gooey Pumpkin Blondies
2014-10-22 15:10:04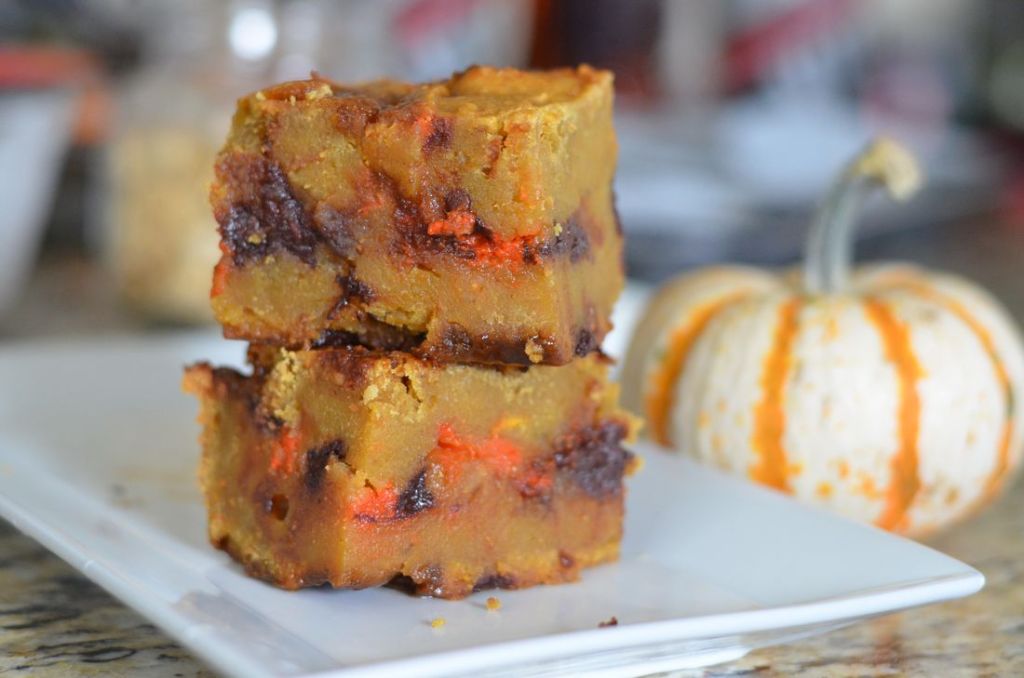 Gooey pumpkin blondies stuffed with Halloween chocolate chips and pumpkin spiced marshmallows.
Ingredients
2 1/2 cups all-purpose flour
2 1/2 teaspoons ground cinnamon
3/4 teaspoon ground ginger
1/2 teaspoon salt
1 cup unsalted butter, melted and cooled to room temperature
1 cup dark brown sugar
1/2 cup granulated sugar
1 egg
1 tablespoon vanilla extract
2 cups fresh pumpkin puree (or 15oz can)
1 cup Halloween chocolate chips
1 cup pumpkin spiced marshmallows
1 tablespoon vegetable oil
1 sheet of parchment paper
Instructions
Preheat over to 350 degree F.
In a large bowl, add in flour, sugar, spices, and salt. Mix well with whisk.
Add to bowl of a mixer. Add in unsalted butter and vanilla. Mix well. Add in egg and pumpkin puree. Mix until well incorporated. Do not over mix.
Grease a large glass baking dish and layer with parchment paper. Pour one layer of the mixture into the dish. Add in some of the chocolate chips and some of the marshmallows. Add a another layer of mixture and repeat with chocolate chips and marshmallows. Top again with batter.
Bake at 350 degrees F for 40 minutes or until a knife comes out clean from the center. Let cool completely before serving.
Notes
If get the thickness in the picture, double the recipe, and cook for an hour and twenty minutes.
Mooshu Jenne http://mooshujenne.com/