Thanksgiving side dishes can be anything from delicious fruit salads, pasta salads, potatoes, sweet or not, and freshly baked vegetables. Our family favorites have always been mashed potatoes, fruit salad, and green salad; it's not your traditional house salad. My husband's mashed potatoes are like whipped topping they are so smooth. I could eat bundles of them.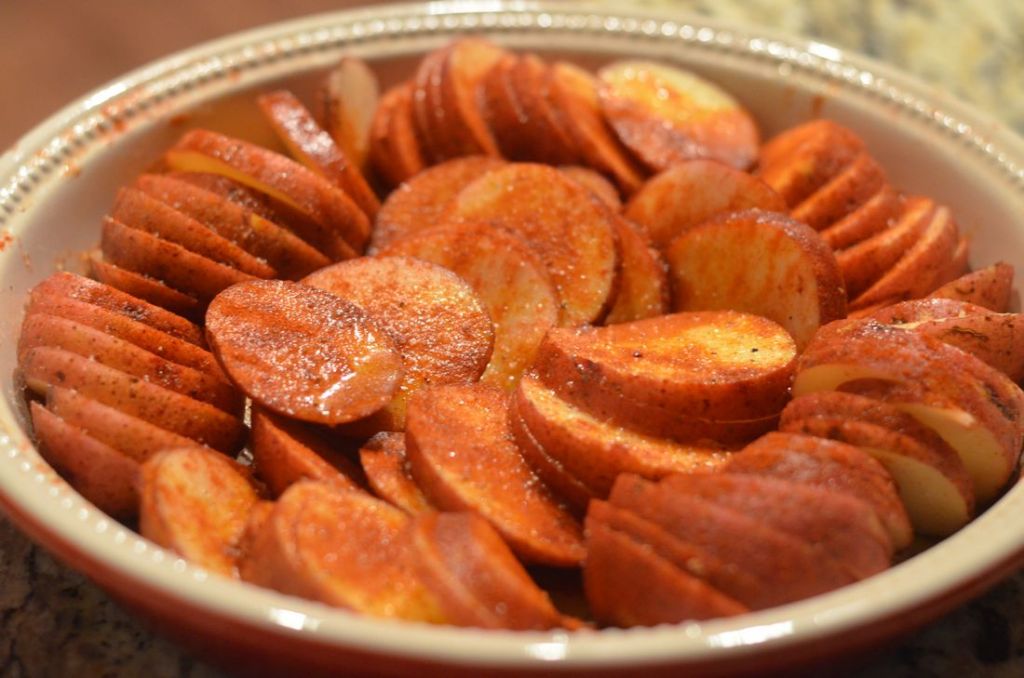 Though, sometimes you need a dish that looks just as good as tastes for those work Thanksgiving gatherings or the ones at formal dinner party. This Paprika Scalloped Potato recipe is simple, pretty, and can be just elegant. 
It's great to just lay out into a big pie dish, top with paprika, Greek olive oil, and bake. It's a one dish ordeal which makes it so much easier for the person cooking. It's serves up in the same dish. We all like less dishes to clean when we are planning such a feast!
Paprika Scalloped Potatoes
Potatoes sliced thinly and topped with paprika, olive oil, salt, and pepper.
Ingredients
7 red skinned potatoes
1¼ tablespoon paprika
1 tablespoon olive oil
¼ tablespoon pepper
¼ tablespoon Mediterranean salt
Instructions
Preheat oven for 400 degrees F.
Wash potatoes. Slice into scalloped rounds.
Layer into pie dish. Top with olive oil. Sprinkle paprika over the oiled potatoes. Top with pepper and Mediterranean salt.
Bake for one hour covered with foil. Remove foil and bake for 15 more minutes until tops and edges are crispy brown.
Nutrition Information
Serving size:
5
Calories:
238
Fat:
3g
Saturated fat:
1g
Unsaturated fat:
3g
Carbohydrates:
49g
Sugar:
4g
Sodium:
409mg
Fiber:
6g
Protein:
6g
Here is 24 more side dishes to tempt your taste buds!
Cranberry Sauce with Orange and Apples – Healthy Seasonal Recipes
Chorizo Stuffing with Manchego Cheese and Dates – Little Family Adventures
Sauteed Zucchini with Walnuts – Dizzy Busy and Hungry
Easy Green Beans – I Eat Therefore I Cook
Cauliflower Stuffed Acorn Squash – Sparkles and Glue
Butternut Pear Soup – From Scratch
Easy Dirty Rice – Texas Type A Mom
Steamed Honey Glazed Carrot Medallions – It Happens in a Blink
Baked Macaroni and Cheese – Arlington Mommy
Brussels Sprout Salad with Maple Vinaigrette – Stuck on Sweet
Loaded Baked Mashed Potatoes – Home Cooking Memories
Slow Cooker Loaded Mashed Potatoes – Gal On A  Mission
Quick Dinner Rolls – Love To Be In The Kitchen
Copycat Lambert Rolls – SMSL with Heidi
Cranberry Orange Quinoa Salad – Gal On A Mission
Zesty Green Salad – Mooshu Jenne
Mashed Potatoes with Rosemary Garlic Olive Oil – Bakes In Slippers
Zucchini Au Gratin – Mrs. Criddles Kitchen
Old School Butter Yeast Rolls – Bakes In Slippers
Zucchini Fritter Casserole – SMSL with Heidi
Homemade Green Bean Casserole with Fried Shallots – The Baking Fairy
Acorn Squash with Rice and Sausage Stuffing – The Baking Fairy 
Dirty Green Beans – Healthy Seasonal Recipes